Jay was invited to exhibit work in the 8th Edition of the Florence Biennale in December 2011.   The exhibition was held in the Fortezza da Basso near the Santa Maria Novella station, the venue for all of the most important Florentine exhibitions and fairs.  Over 600 artists from 70 different countries took part and thousands of visitors attended the event.  Jay was allocated one of the most desired spots right opposite the spacious entrance foyer, centre stage!
Below are a few images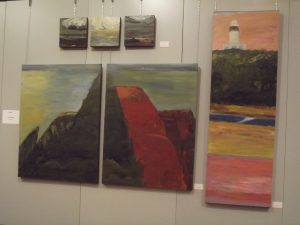 As a result of taking part in the Florence Biennale Jay has been approached by the New Art Centre gallery in Manhattan, New York, to hold a solo exhibition in October 2014. The New Art Centre has changed its name to the Artifact Gallery and has moved to Street Frontage Premises at 84 Orchard Street, Lower East Side, New York.